For the Airlift Festival on May 12, 2019, the Fliegerwerkstatt was commissioned to build the interior of Hangar 5. 'Hangar 5 – Understand Airlift' dealt with the concrete afterlife of the Airlift and the Berlin reality of life during this time. Seven four-metre long transport crates, which served as counters for the exhibitors, as well as a living room furnished with typical decor of the time, were reconstructed by the young people. The production took place in the aircraft workshop.
The assembly was completed on site. With our new transport trolley the long side walls could be moved from yard 1 into hangar 5.
For the living room an original window was lent and wallpaper in the style of the 40's was selected.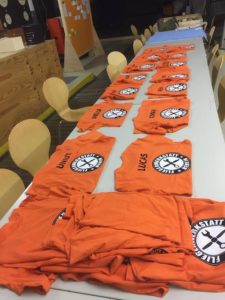 On the feast day itself our young people volunteered on the Tempelhofer Feld. Through these joint activities everyone gets to know each other better and better, regardless of which group and with what motivation they come to the airplane workshop in everyday life.
The common outfit is for all an important part of the feeling of togetherness.